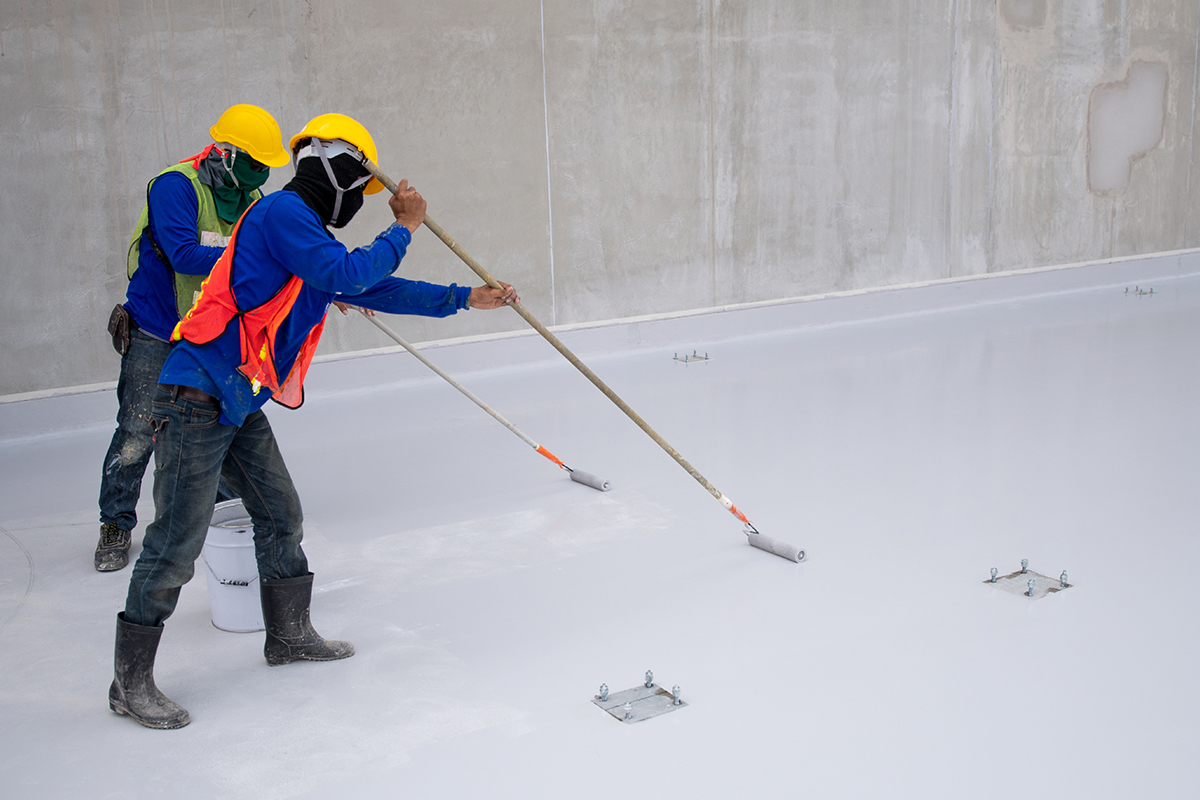 Roof Water Proofing Services Near Me
Increasing demand of waterproofing requirements makes us to focus on waterproofing projects. Our team is closely studying the latest technology in water proofing and hence prevent water leakages. Whether it is terrace, water tanks, walls, bathrooms, interiors are affected by dampness, leakage, wall seepage Blue Ciel expert team fix it professionally.
3 Common Waterproofing Materials that will answer your needs
Waterproofing is an important thing. Many people suffer from leakage problems. This happens because they don't think it's important to invest in waterproofing. You should know that without proper waterproofing, your terrace, bathroom, walls, water tanks are going to give you a lot of trouble. Sometimes your favourite furniture will also ruin.
One more thing to keep in mind while going for waterproofing services is the material. If you're investing your money in waterproofing, you should know that there are many types of waterproofing materials. You can choose the material of your choice. In this article, you'll find some common types of waterproofing materials.
Polyurethane
Most people will do best with this material. There are many waterproofing materials in the market but Polyurethane offers some great benefits. One such benefit is a seamless waterproofing membrane. This has a unique quality. It can reduce the concrete's ability to absorb water.
Because it makes the outer layer of concrete harder. The way it achieves this amazing benefit is by deeply penetrating the concrete's surface. The result will be effortless waterproofing. And if you're worried about capillary cracks, it can fill them for you. But you should not try to use this material on your own. It can have some harmful effects on your body.
If you're searching for waterproofing contractors in Thrissur, you can contact professionals from Bluecielpainting. Their expert team will make sure that there's no compromise in quality. You must know that when you don't have proper tools, these waterproofing materials can easily harm you. That's why let the experts do their job.
Polyurethane is not limited to any one purpose. It can be utilised for different types of waterproofing projects. If you want waterproofing materials for roof, it can be a great deal. Also, it can waterproof water tanks, ponds, balconies, pedestrian decks, bridges, parking decks, etc. It is even a great choice for waterproofing materials for bathroom. Basically, it's a multipurpose waterproofing material.
This material will resist water, that's for sure but it will also make sure that there are no leak risk areas. This happens because of its ability to provide adhesion to the entire area. It also permeates water vapours. You won't face any issues with oils, detergents and other chemicals because this waterproofing material can also resist them.
You'll be amazed to know the lifespan of this material. It can go on for approximately 25 years. So, it's a one-time investment and you can reap the benefits for more than two decades. This material can cost you more than the rest. But that's not a big deal, because it's lifespan is very long.
However, you can also get it for a much lower rate. If you're curious, you can google it. For example: search for waterproofing materials in Kerala and it's the price.
PVC Waterproofing Membrane
This material is mainly used to provide waterproofing to the roofs. It is made from polyvinyl chloride. This material is a popular roofing material but it doesn't stop there. It is also being used for swimming pools, underground structures and tunnels. The manufacturer offers two choices with PVC waterproofing Membrane, reinforced and unreinforced membrane. Reinforced membranes are more durable than their counterpart. On the other hand, it's alternative offers great flexibility. It won't tear apart easily.
Installing this is a simple task and the lifespan is also great. The only thing that people don't like about this material is that it allows moisture to fall from the roof. You can buy rolls of PVC waterproofing membrane. They are available in the market in sizes of 60-75 feet. However, if you want longer than that, it's also available.
Cementitious Coating
The cementitious coating is easy to use material and experts prefer it over other materials. The coating is made up of ingredients such as silica-based substances, sand, organic and inorganic chemicals. It is a powdered coating. After combining these ingredients, it results in a hydration reaction. Ultimately, it creates a waterproof seal.
In your quest of searching waterproofing materials for terrace, Cementitious coating can be the answer for you. We've mentioned it's easy to use, but that doesn't mean any normal person can handle this. Please hire an expert team for these purposes. It is recommended to mix the coating with some tap water before applying. And if you want a durable and solid coating, you can request the experts to use acrylic additives with the coating.
The cement product is first mixed as per the manufacturer's instructions. And then the Cementitious coating is being added and mixed. The cementitious coating has its advantages but there are also some disadvantages that you should consider before buying this material. The advantage is its easy application. But it's lack of flexibility is the biggest disappointment. After all, you can't expect amazing flexibility with cement to begin with. But it's important to note that concrete can also bend, flex, compress and stretch. This quality is very minimal though.
Like Polyurethane, Cementitious is also a multipurpose waterproofing material. It is mostly used for waterproofing concrete structures like walls, walkways, sidewalks, foundations, etc. If applied by an expert, a durable watertight seal can be achieved that will last for many years. This material is also very useful in waterproofing structures which retain water. There is a large variety of Cementitious coating products available in the market. All of them have their strengths and weaknesses. So, you should choose the one which suits your needs.
Conclusion
Alright, so now you're aware of some common waterproofing materials. Now it's up to you to decide which material to pick. You should do some research before investing your money in it. If you're looking for waterproofing in Thrissur, hunt the web and hire some experts. You can also take the help of an expert. They'll guide you to select the best one which matches your requirements. It's possible to research on your own. But make sure that you don't end up regretting your decision.
The reason why this article tells you repeatedly to look for experts is that many people are suffering their choice. They try to do stuff on their own and as a result, things don't work out well. That's why choosing an expert from renowned brands like Bluecielpainting will be a wise decision.