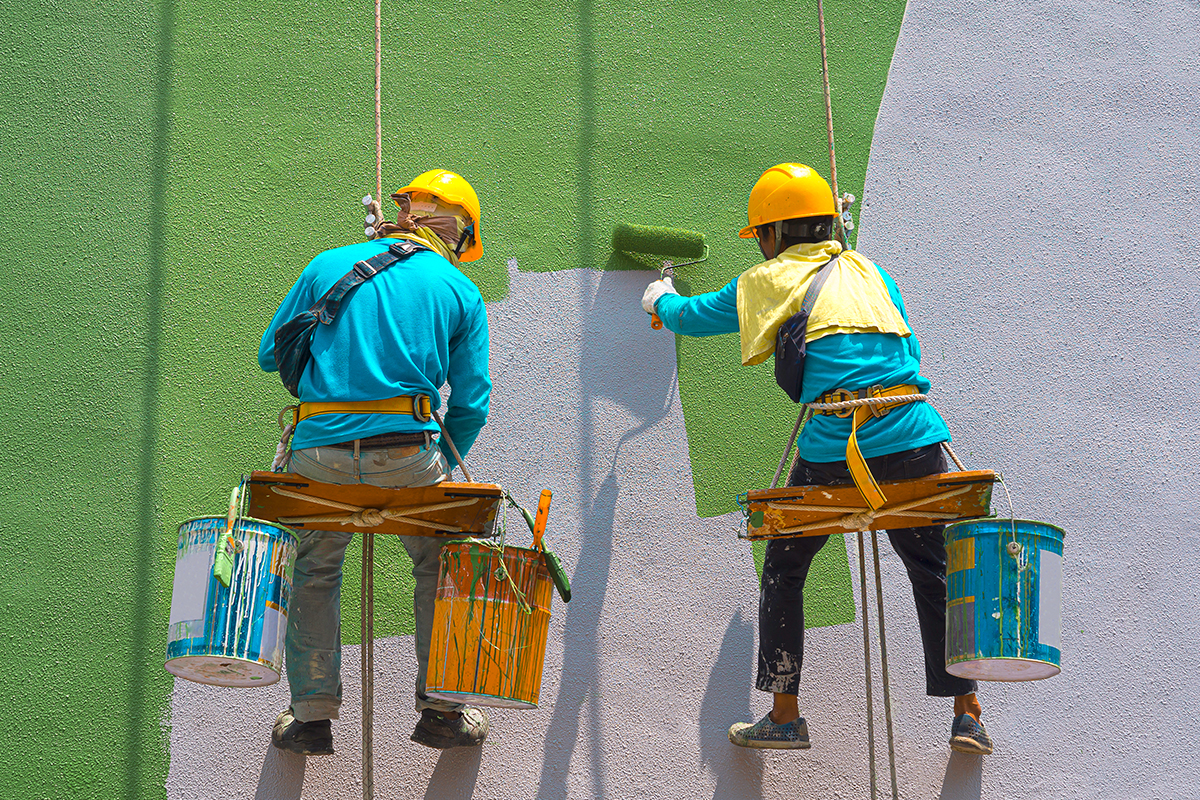 Commercial House Painter Near Me
Commercial painting is very critical with its time and perfection. Blue Ciel team well trained to execute such jobs with perfection. Blue Ciel team is well equipped with modern tools to complete any kind of commercial paint applications within the deadline. Our team can complete any tight scheduled commercial painting works on time.
How to get the most out of Commercial Painting Services? And what are its benefits?
Commercial property owners have to deal with a lot of things. Maintaining the property is not an easy task. You don't want your building or complex to look unattractive. After all, it must look appealing to people. But in the middle of doing all these decorations, we forget one simple thing. The performance of the building or complex while it's being painted should not be compromised. Well, you've got it right, painting your commercial property can benefit you in ways that you've not imagined.
A renowned commercial painting contractor will always make sure that there's no disturbance in work while the property is being painted. One such contractor is the Blue Ciel team. Their team is very well trained in the commercial painting process. Your building or complex's activities will flow like water even when it is painted. Whatever goal you may have in your mind, the Blue Ciel team will turn that into reality. And all this will happen with utmost transparency.
,Commercial painting services are not just about painting. You can expect a lot more from your contractor. Some of them are mentioned below:
Images and Colours
Images can increase the beauty of your walls. They can communicate with people's thought process. A property with an image is always welcoming to the visitors. Blue Ciel team provides commercial exterior painting services too. You can tell them your requirements and your job will be done within the deadline of your choice. Your school, office, mall, plant, etc will improve a lot in terms of aesthetics. A neat and attractive finish radiates a sense of confidence about the property. Visitors immediately know that this place is professional.
You must choose well experienced commercial painting contractors only. Because they can advise you which colour would be best for your property. If you want your visitors to be in a certain mood, it is possible to make it happen. For example; you want your restaurant to feel lively. To achieve that, you can tell the contractor that you require this and that. Blue Ciel's commercial interior painting services will turn the moods of your visitors according to your needs. Whether you want an energetic image or colour for your factory or your priorities are to provide a soothing atmosphere to your spa customers, it is possible.
Contractors utilise digital colour imaging to give you an idea of how these colours will look on your property.
High-Quality Paint
You should always find a contractor who uses high-quality paint. With the Blue Ciel team, you can rest assured that you won't get disappointed with their work. If your paint is chosen with some care, it can easily last longer. That's why it is important to pick quality paint only. Commercial painting cost per square foot may get a bit higher than usual if you opt for good quality paint. But it's worth it. You'll enjoy not painting your property for a long time.
The Blue Ciel team will advise you on various topics. This includes deciding which product would be best according to the surfaces like concrete, drywall, wood, metals, etc. Solutions for walls and floors which face high traffic can be done. Also, it is possible to go for exterior sealants which protect walls against extreme weather conditions. And if you're worried about how your employees will work during the process of redecoration, it is not even an issue. Because contractors can use low-odour paint in such cases. Even a no-VOC paint job is possible.
Preparation
Without the right preparation, a good commercial paint job is impossible! Don't choose contractors who are not well experienced in the preparation department. Always hire professional contractors who can perform a thorough cleanup of the surface. The cleanup usually is done like this; washing the exterior with pressure- pressure washing, taking care of problems like peeling, chipping, mold, graffiti, rust, concrete spalling, etc. In some cases small repair jobs may be necessary - replacement or repair of drywall, patching the nail holes, dents, cracks, etc.
Good Customer Service
Make it a priority that the paint job should be done with causing the least interruption to business. Look for contractors who can work in flexible scheduling. If the paint job is continuing during off-hours or slow season, your business can function normally. If the contractor is not offering safety measures, don't proceed with the deal. The safety of your employees, visitors, clients should be the top priority. Also, equipment and furniture should not face any harm.
Quality Control
You don't want your paint budget to skyrocket, that's why keep in mind the budget first. The price should be competitive. If you're a bit sceptic about the budget, ask your contractor to give you written specifications about colours, materials and stuff. This way you can provide the details to your higher-ups.
Benefits:
The benefits are endless, you can even profit financially from commercial painting services.
Better Productivity:
If you're an entrepreneur, commercial painting can improve the focus of your workers. With the right colours, the mood of the room can be enhanced. And as a result, your workers will concentrate better.
Fewer Accidents:
Industries with bright lights face fewer accidents than businesses with dark lights. Select bright colours and provide your workers with more safety.
More Value:
A paint job, if done well can increase the value of your property. Commercial painting services would be ideal if you're looking to sell your property.
More Clients:
From our childhood, we were asked to not judge the book by its cover. But in the real world, it is not applicable. Your clients will always have the first impression of your company from its looks. And if the painting exudes positivity, you are more likely to get clients.
Conclusion:
Commercial painting is the best solution for your building or complex. Contact the Blue Ciel team and enjoy the benefits after the paint job is completed. Choose colours that are best suited for your setting. The Blue Ciel team will guide you through that, so don't worry about it. A good contractor always utilises professional tools like a pressure washer, brushes and rollers, sandpaper and scrapers, industrial primers, Caulk and compound, etc.